Learn ancient principals that help you 
deal with modern life
Enrol in our 7-week online Buddhism Course to start your journey now
About the course and your teacher
Course Overview
✔ 7-week online course
✔ Buddhism for beginners: Designed for those who have little or no contact with Buddhism
✔ Course content based on Tibetan Buddhism
✔ Presented in a light fashion, including stories and humour
✔ Daily posts and feedback from your teacher- Duda Baldwin
✔ Weekly Q&A video session with the teacher
✔ 1-1 feedback provided through weekly homework
✔ Course Fee: $777 $199 (Use code "FB101" during checkout)
Why Should I Do This Course?
✔ Find Solutions To Various Life Problems: More and more people are looking to Buddhism for solutions to the problems that they face; such as fear, anger and stress.
✔ Explore The Rational Side: The approach in Buddhism is very much like the approach in science. The method of using logic, reason, deep analysis and a pragmatic approach of trying it ourselves.
✔ Practice Buddhism at home: It's that easy.
What Will I Learn?
Meditation:
✔ Learn why meditation is needed and how to practice it daily.
✔ I share with you real-life scenarios and teach you when to use which meditations so that you get the best results.
Understanding Painful Emotions:
✔ Learn to understand why anger, fear & insecurities creep into your life.
✔ Learn simple techniques how to recognise these emotions & how to stop them.
✔ Understand others around you in a different way that will stop making you feel upset.
Beautiful Solutions:
✔ Experience a new sense of compassion for yourself and others.
✔ Understand why and how to love yourself first.
✔ Learn simple practices that will show you how love & kindness are the antidotes to anger or fear.
What's In It For Me?
✔ Discover things about yourself that are crucial for your happiness

✔ Understand how anger, fear and other negative emotions harm you.
✔ Develop more compassion and loving kindness towards yourself and others.
✔ You're surrounded by like-minded company and guided by a devoted Buddhist teacher.
✔ The course will equip you with wisdom and techniques that you can use after the school is over. This improves your spiritual, mental, and physical well-being in the long term.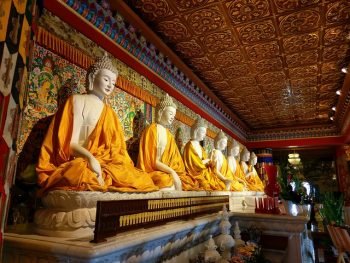 Duda's Interview With Lisa Anselmo From New York City
Duda's Interview With Maja Chudzik From United Kingdom
Not ready yet? Let's learn more about you.
Fill in the form below and we'll keep you in the loop with the course details.
[gravityform id="1" title="false" description="false"]